Lattices and grills for windows are not only a way to protect the home from illegal and unwanted . Such products are an integral part of the facade decoration of the building. Hot-forged grilles / partitions can be made into any shape, painted in different colors, or impart an aging effect. The price of products directly depends on the complexity of design.
There are not only protective grilles, but also decorative shutters, which are used as screens or partitions to divide the room into zones. They are made of wood, plastic or aluminum. The protective grill is used on fireplaces, outdoor units of air conditioners, visors, etc.
Lattices for home
Grill design for balconies in 2019 pleases us with a variety of textures and shapes. Fashion has moved a bit away from forged figurines that excite imagination. There is a growing trend for simple lines and geometric shapes. Minimalism looks modern and stylish. In addition, you can easily arrange a multi-storey building using grills, and it will look presentable.
Patterns with climbing plants and flowers are chosen for the design of private houses and country residences only if it is necessary to create an architectural ensemble. Simple, welded iron grill design are more reliable and practical.
As for the color scheme, in the past year, the emphasis has been on the game of contrasts: the combination of black and white was a real hit in the design of balconies of apartment buildings.
Grill design for living room plays two important functions: protects panoramic windows, emphasizes the style and architecture of the building. The partition pattern should not block the penetration of sunlight into the room, and the product must also meet the following requirements:

not spoil the view from the window;
protect the house from break-ins and intrusions;
prevent children from falling out of the window.
You can also use aluminum frames on glass and plastic doors. Any grating should not be installed dead and must be easily opened by you, so that in the event of a fire or other danger you can freely leave the room.
Aluminum perfectly fits the design of sliding doors. And it can easily be opened by anyone. The door leaf sections can be painted in oriental style. Then the translucent door looks like a real theater screen. Hall grill design painted in gold looks quite interesting and unusual.
Simple monograms and geometric shapes are made of aluminum. Metal is easy to deform, and it is pleasant to work with. In addition, it has a beautiful color and is resistant to corrosion processes and heat. Its color discourages the sun's rays, but does not absorb them, like lattices painted black. Therefore, aluminum is perfect for balconies, visors and roofs.
As for the styles of 2020, the fashion also dictates simplicity and elegance. In addition, such products are easy to care for, keep clean and tidy. All furniture, interior objects are aimed at practicality. If some quarter of a century ago, every second person dreamed of living in a castle with ornate staircases and a stone fireplace, today, the choice is obvious in the direction of modern designs: urban, hi-tech, minimalism, etc.
Complex forged structures look beautiful only the first couple of years, then without proper care they begin to quickly rust at the joints of the elements. Their only plus is only in their unusual three-dimensional outlook. All other types of grill look two-dimensional, flat. Art forging is not suitable for small windows and doors. It is used for large panoramic windows or high gates.
Lattices for entrance doors and gates
Door grill design began to gain popularity in 2019. Products can be forged and welded. Forging, in turn, can be hot and cold.
Art forging eliminates the chance of having two identical products. Therefore, only a professional blacksmith can make an entire customized project. The lattice for doors will be an excellent protection for a summer house, a country house, or a yard. It is made of rods that cannot be bent. A high-quality lock and reliable fixation to the wall will help strengthen its effectiveness.
Grill design for gate is for the most part a decoration. It does not carry a protective function. Products look quite massive. The only protective element that can be added is a peak at the top. The taller and denser they are, the more difficult it will be for someone to get into the yard. Wall grill design swings and can open both in and out.
Mounting Methods
Lattices are installed on stairs, roofs, in the house and yard, on ventilation, etc. Decorative ones should be easy to remove and clean. But the protective ones are most often mounted using anchor bolts or are welded through the walls of the building. It is possible to weld the lattice to the metal embedded ones.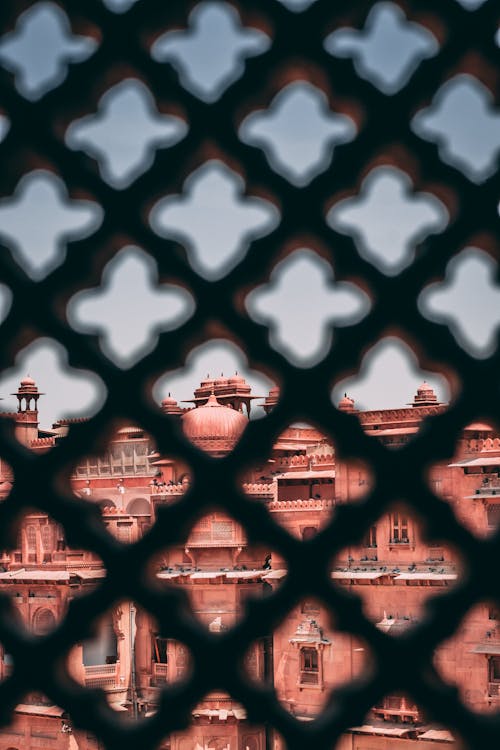 To choose the best installation you need to consider many factors:
what the walls are made of;
lattice parameters;
way of opening;
number of storeys.
Shutters for home decoration can be mounted on self-tapping screws, bolts and hot nails. Products for stairs are welded to the frame of the fittings and securely fixed. Even children's rooms can be decorated with such screens. Shutters are also suitable for decorating the garden / greenhouse.
They are also used for furnishings (cabinets and walls) and as partitions for the dogs living in the house.
The cost of products depends on the amount of work, manufacturing complexity and urgency of the order. Lightweight welded grilles are cheaper than exclusively forged ones.