One of the first dishwashers was made in 1880 by inventor Benjamin Hove. You had to rotate the handle with frantic speed to make it work. American housewife Josephine Cochran went further and equipped the dishwasher with a motor. In 1886, Josephine was granted a patent for her invention, and in 1893 her motorized dishwasher was displayed at the Chicago Exhibition.
The first mass-produced domestic dishwasher belonged to the German company MIELE. But it also had a lot of drawbacks. Modern machines treat dishes very well. They are efficient and almost silent. They are also very economical. For the last three decades, designers have been able to reduce noise levels from 65 to 43 dB, and power consumption from 2.8 to 1 kWh.
A dishwasher greatly simplifies the life of each housewife. When choosing this type of home appliances, many are oriented towards appearance. But do not forget about functionality. To evaluate the usefulness of the model, you need to know how long the dishwasher cycle lasts and decide if the options are right for you.
The dishwasher performance is identical to washing dishes manually.
It depends on the program you have selected and consists of three or four steps:
soaking if the dishes are very soiled;
washing;
rinsing;
drying.
The duration of these periods is influenced by the initially set program. The higher is the temperature you set, the longer you have to wait for the cycle to end.
Different dishwashers have different cycles. However, there are four basic dishwasher modes that each manufacturer puts into its program. These modes are called fast, normal, economical, intensive. Let's look at each of them in more detail.
When selecting a quick wash, the prewash and drying function is eliminated. The process takes about half an hour. Usually, it is called rinsing. You may apply this mode when you need to wash a small amount of lightly soiled dishes.
In a normal mode or a complete cycle, the dishwasher runs approximately two hours, including:
Rinsing – 5 to 10 minutes.
Main wash – up to 50 minutes at a water temperature of 65⁰.
Rinse in three steps – up to 10 minutes.
Drying – time can vary.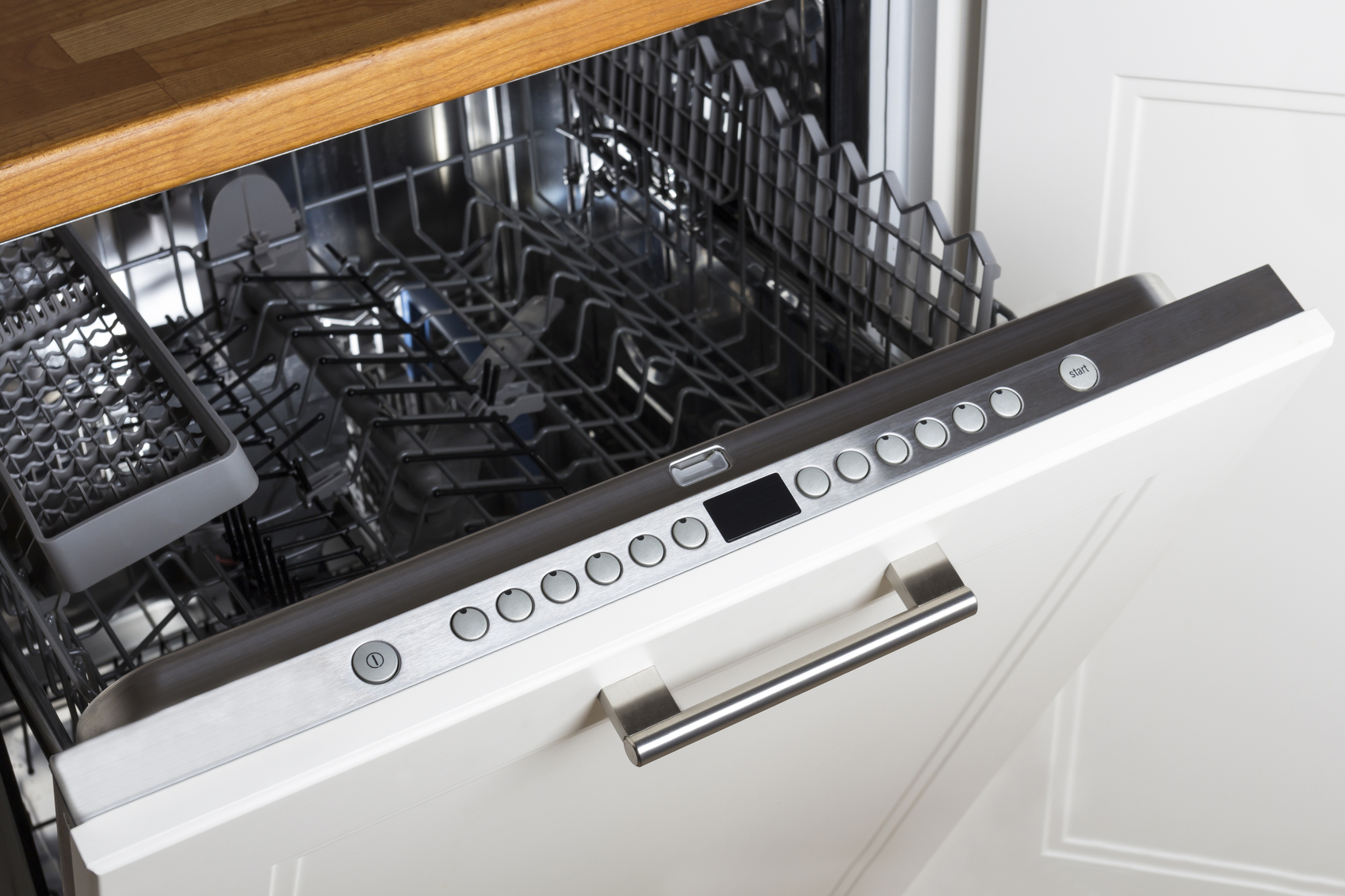 Some models offer a fast wash cycle. It significantly shortens the time by increasing the temperature and pressure. Though less water is consumed, electricity consumption increases. The program includes a pre-wash feature, washing at 50⁰, double rinsing, drying.
Very soiled dishes are washed using an intensive cycle lasting 2-3 hours. This program includes pre-wash, wash at 70⁰, rinse in four steps, drying.
When the cycle is over, the used water goes to the drain. The drying stage can take from 30 minutes and to an hour.
A special buzzer will notify the wash cycle is over. You can also completely deactivate the alert feature if you plan to load the car overnight.
Why do dishwashers take so long?
As a rule, one stage of the dishwasher takes from fifteen minutes to half an hour. Different machines can vary not only in size and functionality but also in the modes of washing. Today, many manufacturers are trying to make dishwashers as efficient as possible. Ann the main task is to make it also fast. Comparing about ten dishwashers from different manufacturers, the minimum washing time will be about half an hour.
Dishwashers use only cold water. And then it needs to be heated by the machine. Water heating is done gradually and takes some time. But it allows you to wash the dishes at 70 degrees. It guarantees perfect results even for the heavily soiled pans. You will never achieve this result manually.
Nowadays, all dishwashers are equipped with additional settings allowing you to set priority features. It refers to wash time as well. You can opt for energy and water saving but will have to wait a bit more for the dishes to be cleaned. Or you may choose speedy modes but energy consumption will increase in this case.
What is the fastest dishwasher mode?
An average dishwasher offers wash cycles from 30 to 160 minutes.
All modern machines have an express program (fast cycle). It is designated for the quick washing of moderately dirty dishes without food remains. The program allows you to save not only detergents, water, and electricity, but also time. Normally, it lasts only 30 minutes. Washing is done at low temperature.
Experts say a thirty-minute cycle is enough to wash all the plates and glasses. But there are some nuances. An express mode that is designed to wash several plates will be performed very fast. But the plates will not be dried, as this function does not work here.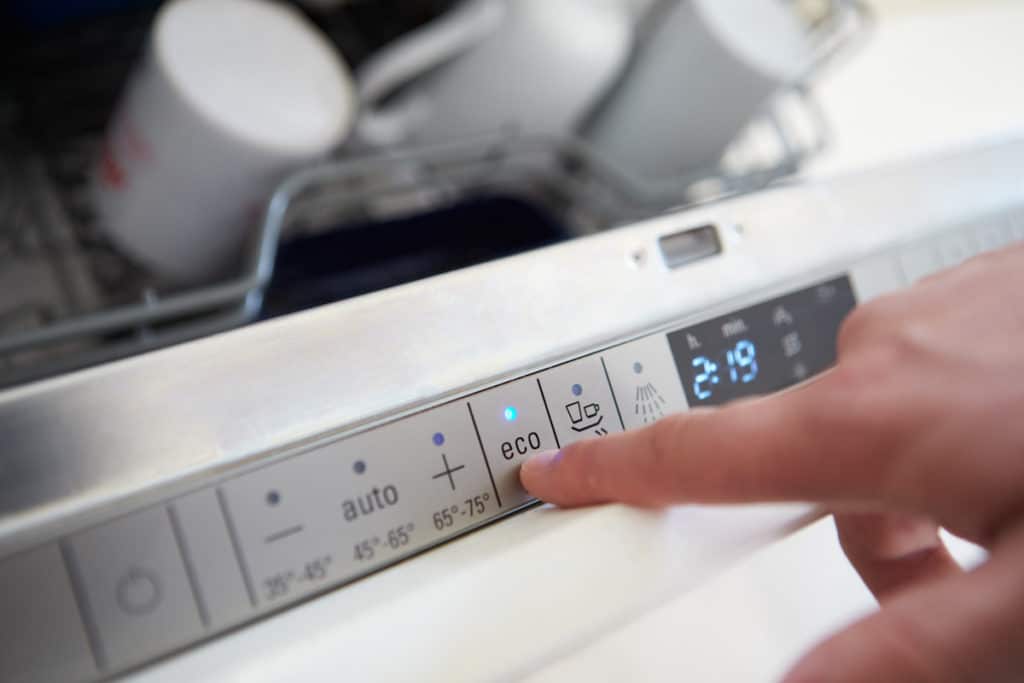 Can you stop a dishwasher mid cycle?
Let's suppose you forgot to load some dirty glasses. Can you open the door of the machine when the cycle has already started?
If you simply pull the door handle, it may not open at all, as almost all models are equipped with a locking device. To unlock it, you must first stop the washing process and then open the door.
The door may open, but thanks to a special sensor, the program will immediately reset and the washing will stop.
Many dishwashers are equipped with a special button for an emergency stop.
The machine can allow you to open the door, while a special sensor that resets the program does not work and then a flood can occur. In this case, we can talk about a malfunction, although it happens very seldom.
You should not be afraid to try opening the door of the dishwasher. In 99% of cases, nothing critical will happen. You, as a user, need to fully understand how your home assistant works. And when you understand it, you can use it much more confidently and efficiently.