Ellipticals have been competing with treadmills ever since they appeared on the market some three decades ago. Over the years, ellipticals managed to successfully sideline the competition. And for a good reason too: elliptical trainers have a substantial advantage over many other workout machines.
When you have a chance to enjoy the smooth, low-impact, low-noise motion of an elliptical, you'll hardly go back to treadmills. Besides, while being smoother, quieter and safer, ellipticals are more than capable of providing challenging full-body workout experience.

Proform is one of the brands that belong to the world-renowned fitness equipment manufacturer and marketer ICON. Even within this well-known and loved family of brands Proform stands out thanks to the quality and features of the exercise machines it produces. While Proform machines aren't perfect for everyone, customer reviews on Proform ellipticals are traditionally generally favorable.
One of the things that make Proform so popular is an extensive range of products that target any type of demographic. There are high-end machines with impressive modern features like web browsers and touch screens suitable for competitive athletes. There are cheaper ellipticals with fewer features for those who prefer enjoying an occasional workout at home.
And there is a wide range of models in between those two categories.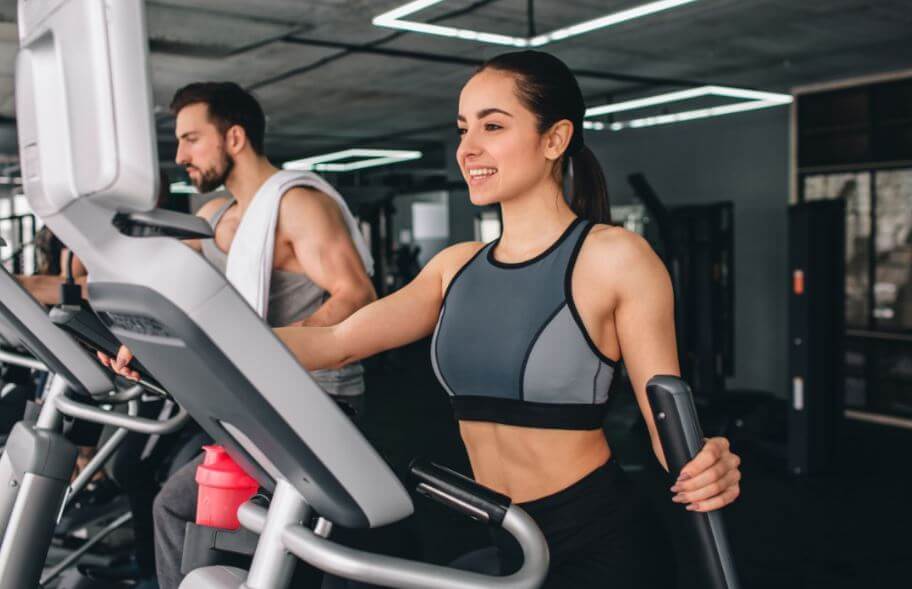 Overview
Proform 1120E Elliptical, like all ellipticals of this line, is a front-drive machine. This means it takes less room while stride length remains fairly decent. It also means that this machine can offer increased resistance, which might appeal to the fans of more challenging workouts.
The elliptical is quite large and rather heavy. While it does have transportation wheels attached in the front, moving it from place to place might be a problem. So you might want to know exactly where you want it in the house before purchasing it. But once you put it together and place it in your favorite workout spot, you'll be able to make sure that the elliptical's weight is actually one of its advantages. It's one of the things that keeps the elliptical stable and quiet, no matter how hard you go.
It's not a bad-looking machine by any standards. It has that sleek streamlined high-tech design that's quite eye-catching. It does have some plastic parts and this fact usually makes people worry about the machine's durability but the brand is known for making solid products and this elliptical has a sturdy metal frame and a 350 lbs weight capacity.
Although Proform 1120E Elliptical can't be considered a high-end machine, it has a lot to offer to experienced fitness enthusiasts. As I mentioned earlier, the heavy 28-lbs inertia-enhanced front-drive flywheel offers tougher resistance and gives you the challenge you love. At the same time, 24 resistance levels allow adjusting the effort you apply to your level of fitness. So it's great to see that this elliptical allows you growing as a fitness lover and doesn't give you a chance to get bored. And adjustable incline and stride help enhancing that feeling a great deal.
At the moment it's one of the cheaper Proform ellipticals you can buy. However, it's worth noting that Proform 1120E Ellipticals aren't available for purchase at the manufacturer's stores any longer.
Console
The console design on this machine is probably one of the best you can find on the fitness equipment market. Every feature is designed to give you maximum comfort during workouts. A backlit 6-inch screen makes all the stats easy to see. There are lots of buttons but it will hardly make you stop and scratch your head over what they are for and when to use them. The controls are extremely user-friendly, allowing you adjusting each and every feature with a single touch without interrupting your workout.
There is a large cooling fan built into the console so users can keep themselves cool while training. There are conveniently placed handlebars with heart rate sensors built into them. What's more, there are two large speakers on the sides of the console and an audio port to plug your MP3 player into.
Features
The manufacturer packed the Proform 1120E Elliptical with lots of features to maximize your convenience and enhance your exercising experience. Many of the features are adjustable, which certainly makes this elliptical more versatile than many other workout machines on the market.
There are 32 preset workout programs and 24 resistance levels to choose from. What's more, you can adjust the stride length and incline. You also have access to the Proform's iFit digital coaching service to diversify your workout experience even further. Each of the workouts provided by iFit automatically adjusts your machine's features. You can watch your e-coaches on the screen of your tablet. There are an adjustable tablet holder and Bluetooth connection for that purpose. A bottle holder is another nice extra feature that makes sure you don't interrupt your training even when you feel like you need to hydrate yourself.

Pros:
Affordable
Great aesthetic and ergonomic design
User-friendly
Packed with features
Adjustable stride length
Cons:
Quite heavy
No wireless heart rate sensors available
A discontinued product
Best alternative to Proform 1120E Elliptical
Proform 1120E Elliptical isn't a bad elliptical trainer by any measure and has a lot to offer while it has an appealing price. However, it's impossible to ignore the fact that these machines are out of stock at the moment. It means that in all likelihood, getting the manufacturer's tech support might be problematic.
The good news is there are decent alternatives to these ellipticals that don't have the same issues. One of them is ProForm Pro 12.9 Elliptical. As you can see, it's a representative of the same brand family. Apart from the fact that it's still available for purchase from the manufacturer (and at a discount price, too), here are a few things that might make this machine a better pick:
Being a front-drive elliptical as well, ProForm Pro 12.9 machine features a larger and heavier flywheel of 32 lbs. This makes it better suited for more intensive, challenging training.
There are 26 resistance levels and 35 preset workout programs.
The ProForm Pro 12.9 features a larger 7-inch LED screen.
It enables the use of wireless heart rate sensors.
This elliptical's weight capacity is 375 lbs as opposed to Proform 1120E's 350.
The bottom line is this: in case you are on a tight budget and buying a cheaper machine that was discontinued by a reputable manufacturer, it might be a good idea to buy Proform 1120E Elliptical. But if you want to have a little more and not to deal with the issues connected to using discontinued products, it will be better to go for ProForm Pro 12.9 Elliptical.